Email Us
info@rushimprint.com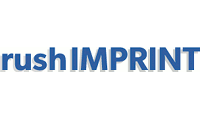 Loading...
Special Pricing!
$0.63
to
$0.88
Special Pricing!
$0.28
to
$0.37
Prices from:


$0.49

to

$0.56
Prices from:


$0.48

to

$0.57
Special Pricing!
$0.78
to
$1.04
Prices from:


$0.31

to

$0.40
Prices from:


$0.39

to

$0.48
Prices from:


$0.12

to

$0.18
Prices from:


$0.70

to

$0.82
Prices from:


$0.47

to

$0.56
Special Pricing!
$0.56
to
$0.82
Prices from:


$0.73

to

$0.91
24 Hour Products
24 Hour Tradeshow Displays
Setting up a 24 hour tradeshow display requires advance planning to do it properly. rushIMPRINTs has what it takes to help you get these quick production tradeshow displays ready on time and with the minimum of disruption. Use a high quality trade show table cover to cover a bare table – you want your custom displays to have a clean and polished appearance. These promotional products will display best when set off against a custom cover rather than a bare table. Covers can be in a color which best matches or contrasts with your display. There is a wide variety of custom tradeshow displays to choose from for printed gifts, and you may be able to find just the right one to suit the needs and niche of your business.
The choice you make for your promotional products to use for a 24 hour tradeshow display will say a lot about your company. It will make a lasting impression on your customers. The <a href=http://www.rushimprint.com/dart-pen.html?v=1> Dart Pen </a> is a low cost but highly effective quick production tradeshow display. It is available in a wide variety of colors: Blue, Yellow, Orange, Green, White or Fuchsia with Black Trim. White with Blue, Purple, Green or Red Trim. Translucent: Purple, Red, Green, Blue or Black with Clear Frosted Trim. You must specify trim colors in special instructions section.
A best selling rush item is the <a href=http://www.rushimprint.com/custom-full-color-business-card-magnet.html?v=2> Business Card Magnet </a> Gain recognition with business card magnet. Serves as a refrigerator magnet too for better visibility in the home. Our business card magnet carries your full information magnet-style. Price includes a full color imprint. This item can be delivered in just one day.
Another good 24 hour tradeshow display product is the <a href=http://www.rushimprint.com/16-in-beach-ball.html?v=2> 16" Beach Ball. </a> These Beach Balls are a great way to get your message seen when recipients are relaxed and having fun! They can be ready for you in a very short while, and will serve your purposes well. These beach balls will carry your logo to where they can be seen on a regular basis.
For kids and adults alike, the <a href=" http://www.rushimprint.com/gum-pack.html?v=1"> Gum Pack </a> is a popular quick production tradeshow displays. The Gum blister pack has 12 pieces of sugar-free peppermint gum. It is a handy giveaway with your brand slapped on for promotions. The price includes a four color process.
Every tradeshow has a lot of different displays, and the one thing that you want with your display is to stand out and be remembered when the tradeshow is over. The best way to assure yourself of this is to have promotional products that are a little different.
<a href=http://www.rushimprint.com/nutty-putty.html?v=2"> Nutty Putty </a> is one of those 24 hour tradeshow displays that will almost guarantee you a unique product. Get nostalgic with this timeless classic toy! Fun sticky goo packed in individual eggshells. The Putty Matches Egg Color. Egg Shells Get Packed in Traditional Egg Crate for Shipping. It may also be Used as a Stress Reliever. When Compressed into a Ball, Nutty Putty Bounces. Nutty Putty Transfers Oil Based Inks, it is traditionally Used to Print Newspapers to Other Surfaces . Have your logo imprinted on this 24 hour tradeshow display and be remembered as a company that is unique and innovative.
If you want a 24 hour tradeshow display that is a little different and stands out because it is, and is available in a 24 hour time period, check out the <a href=http://www.rushimprint.com/hand-sanitizer-1-oz.html?v=1> HAND SANITIZER 1 OZ </a> U.S. made 1 oz instant hand sanitizer with aloe moisturizer and citrus scent. The price includes four color process laminated decal. Lamination protects your investment
When preparing for a tradeshow, you will need to consider how many promotional items you will want to purchase. If it is a large number, you may want to consider how soon they can be completed for you. rushIMPRINTS' let's you know in advance how long it will take to have your custom banner, custom sign and custom display ready to go.
You choose your 24 hour tradeshow display with care, because the promotional products that you select need to promote your company in the best possible manner. A good promotional product serves several purposes. It promotes goodwill to your customers and employees, reinforces the marketing of existing products and services; it can recognize employee performance, promote trade show traffic, and introduce new products and services. A 24 hour tradeshow display can play a large part in your marketing campaign. It is important to choose quick production tradeshow displays that will remind your visitors of what your company does long after they leave the tradeshow. These promotional products need to continue spreading your information, and carry it to other people who were not at the tradeshow. The more people who are exposed to your message from these products, the further your advertising dollar goes. You can mix a large number of these 24 hour tradeshow displays together or rely on a single product in large quantities.
When you are making your decision as to what the best investment would be for your hard earned advertising money, an honest evaluation will tell you, rushIMPRINTs 24 hour tradeshow displays are your best solution. 24 hour tradeshow displays are the perfect solution when searching for a way to get your company information in front of a large group of people. Any place where a large number of people are gathered, whether on the beach, in the shopping mall, or at sports events, a 24 hour tradeshow display will get your message across in a very noticeable manner.
Order your 24 hour tradeshow displays online or call one of our customer support specialists today at 1- 866-277-RUSH (7874).