Email Us
info@rushimprint.com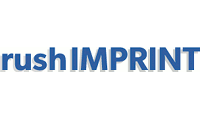 Loading...
Special Pricing!
$0.78
to
$0.92
Prices from:


$0.12

to

$0.18
Prices from:


$1.23

to

$1.40
Prices from:


$36.95

to

$37.95
Prices from:


$0.21

to

$0.26
Prices from:


$0.19

to

$0.24
Prices from:


$0.70

to

$0.84
Prices from:


$7.08

to

$7.47
Prices from:


$1.24

to

$1.67
Prices from:


$1.88

to

$2.31
Prices from:


$1.46

to

$1.71
Prices from:


$10.54

to

$13.49
Chocolate
Personalized Chocolate
One of the most effective ways to solidify a brand is through promotional products that create an emotional connection with existing and potential customers. That connection is easily established with custom chocolate items imprinted with company brand names and logos.
Few gifts produce such a positive reaction as do gifts of personalized chocolate. Chocolate is immediately associated with pleasure, indulgence and fun. An emotional connection with a client implies an ongoing relationship. Building relationships with clients is an effective way to cement customer loyalty. This especially works with familar brands like Hersheys. Everyone is familiar with the Hershey Kiss and you can associate that feeling with the product simply by imprinting your logo on the wrapper.

Promotional products not only provide ways for companies to increase name recognition, they offer opportunities to expand the image of a brand. Giving custom chocolate products to clients projects an image of a secure and successful company, confirming a company's credibility. Gifts of personalized chocolate let customers know that a company cares about delivering individual attention and service.

At rushIMPRINT, a wide assortment of chocolate promotional products are available, from individually-wrapped chocolate squares or foil-wrapped chocolate coins – perfect for high-traffic venues like trade shows – to gourmet gift boxes in a variety of sizes. Combination chocolate and nuts gifts are available as well. For a lasting impression, choose chocolate delivered in an item imprinted with your company's name or logo, such as a unique pencil cup or a handcrafted wooden truck.

Chocolate promotional products are offered from rushIMPRINT in a range of prices to fit any budget. Customers of rushIMPRINT can be confident they will receive chocolate promotional items promptly and at the right price.