Email Us
info@rushimprint.com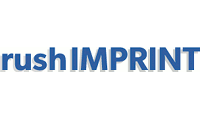 Loading...
Golf Umbrellas
15% Off!
As Low As
$11.28
Custom Personalized Golf Umbrellas
Golf umbrellas are an easy purchase to justify. Most golfers are carrying very expensive equipment around with them on the golf course, and their investment in that equipment can be considerable. Rain on a golfer will dry out in a short time, we humans are waterproof to a point. Rain on that high dollar equipment will cause rust on irons and play havoc with woods and leather. Unlike the irons or woods, Mom can use the golf umbrella for practical uses at home because it is big enough for her and the kids when it's pouring out.
A promotional golf umbrella protects golfers from the harmful effects of ultraviolet radiation on the course when it's not raining, as well as shade and lower temperatures than one would experience standing uncovered in the sun. Thousands of golfers every year suffer the vagaries of heat exhaustion and heat stroke that could have been avoided by proper hydration and the use of a personalized golf umbrella. It's easy to add an umbrella holder to your golf bag or even to a cart so that you don't have to try to swing one handed! It is a rare tournament where promotional golf umbrellas aren't handed out as gifts or prizes, and it's a rare golf umbrella that doesn't have a promotional message, advertisement, or company logo on it.
Custom golf umbrellas, promotional golf umbrellas, personalized golf umbrellas, and imprinted golf umbrellas all are differentiated by their size from ordinary umbrellas. Good golf umbrellas are made of lightweight materials, not just for comfort but to keep from attracting lightning bolts. Many are cleverly designed to fold up to the smallest size possible for easy carrying and storage, and they usually come with some sort of sleeve for storage between uses.
One of the best selling custom golf umbrellas is the 60" Budget Golf Umbrella. It is constructed with a metal Shaft With Wood Handle. Closed, it measures 40". The umbrella is made of nylon Material.
The very best golf umbrellas have a double canopy or some other form of open air slots, called vents, to keep them from collapsing or inverting in gusts of wind. Wood, plastic, rubber or a foam or gel-filled handle are usually provided for a more comfortable grip. Custom golf umbrellas, may come fitted with an automatic opener. And they may have a long metal or plastic stake on the top. These are used to lodge the umbrella in the ground, preventing it from blowing away. You can find golf umbrellas with square or round tops.
The 68" Arc Vented Windproof Umbrella is an excellent choice of imprinted golf umbrella. It is a classic Umbrella Design With Vented Windproof Canopy Construction. It has an all Fiberglass Frame With Metal Shaft And Blonde Wood Grip Handle. It is lightweight And Less Conducive To Lightning. It withstands Wind Gusts Up To 55 MPH. This personalized golf umbrella has a large imprint area for your company logo, slogan, or other business information you choose to have imprinted on it.
Another good choice for a giveaway or as a prize at a tradeshow or convention, or at any golf related business, is the 62" WINDPRO GELLAS AUTO OPEN SQUARE GOLF UMBRELLA This 62-inch, square vented canopy with fiberglass shaft and ribs is one of the most efficient umbrellas on the market. And thanks to the gel-filled grip handle with memory, you'll only have to work on your golf grip. This custom umbrella is wind Vented. It has a closed Length of 38" and 8 panels. It has a large 18" x 4.5" area for your imprint.
Stay safe in the shade with the 62" SHEDRAYS GOLF UMBRELLA with UPF 50+ protective canopy.
Our Windproof 2 tone umbrella protects from the elements even in the harshest weathers. It features 2-tone design, fiberglass shaft and a comfortable foam handle. You can trust the windproof umbrella to spread the word of your brand in the streets.
Even, perhaps especially if you are buying golf umbrellas as promotional items or giveaways, you should take several things into consideration. The umbrella should be comfortable, and easy to store, carry, and use. You should always check to see if the umbrella has been wind tested and whether there is a replacement policy for damages under ordinary circumstances. It is a good idea to avoid any umbrellas with metal parts because of the likelihood of lightning and because rust from metal parts can permanently stain bags, clothing, and equipment.
Custom golf umbrellas, promotional golf umbrellas, personalized golf umbrellas, and imprinted golf umbrellas are admittedly high end items, but they are among some of the most cost effective, durable marketing aids available. Golf umbrellas are exposed to a generally affluent clientele, and golfers tend to take all their equipment every time they leave the house for a game. A well designed, sharp looking imprinted golf umbrella will attract the attention of the right people, at the right time, and will do so repeatedly for the life of the product, exactly what researchers try to provide when designing the perfect marketing strategy.
If you have a sports equipment business, custom golf umbrellas, promotional golf umbrellas, personalized golf umbrellas, and imprinted golf umbrellas are among the best possible marketing strategies, but they are also perfect for doctors, pharmaceutical sales, law firms, lawn and garden businesses, landscaping businesses, and architects.
Businesses that giveaway promotional golf umbrellas as part of their marketing campaign greatly increase their opportunities for increased customer base, increased reputation, and increased revenue. Promotional items can also serve as a continuing stream of income for a business. Some companies choose to sell their custom items rather than using them just as giveaways. Examples of this are school teams, sports teams, and local businesses such as ski boat rentals and amusement parks.
Order your custom golf umbrella online or call one of our customer support specialists today at 1- 866-277-RUSH (7874).