Email Us
info@rushimprint.com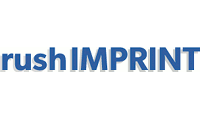 Loading...
M & M's
Personalized M&M's
Money may talk, but chocolate sings! Let personalized M&M's sing to your clients, co-workers, and company representatives. When someone receives a gift of M&Ms and they see their name on the candy shell, it will sing praises to the recipient, and create an opportunity for the giver.

Picture your custom M&Ms that have the company logo, name, or product featured on the candy itself. The jar of M&Ms sitting on your desk for guests, a small bag at each seat at a meeting for a quick snack, marketing representatives with pen, note pads, and a bag of personalized M&Ms for a prospective client. These little candies will keep your name in front of the client's eye and in their mind.

By using M&Ms at a trade show, you can create a greater impact for your company's products and services. All the free pens, note pads, or key chains will not compare with the little box M&Ms which has the company logo stamped on them. Choose colors that will draw attention or make a statement with your M&Ms.

Personal gifts for co-workers and associates are easily created with custom M&Ms. How delighted the executive assistant will be when he or she opens a box of M&Ms with positive attributes of them and their skills. Company celebrations such as retirement parties or acknowledgement for the employee of the month can be memorable with coffee cup full of M&Ms.

Be creative with M&Ms for all of your business contacts, you will be remembered.