Email Us
info@rushimprint.com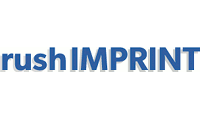 Loading...
Writing & Stationery
Custom Personalized Writing & Stationery
Promotional pens are one of our most common requests. They are great for almost any situation, from office visitors, to tradeshow giveaways to employee gifts for their first day on the job! It's a cost effective promotional product, each of which can make your company's name and logo reach dozens of people. You can't go wrong with ordering a custom pen with your logo.
We have over 500 different styles of pens starting at $0.14 each. Click pens, to capped pens to highlighters, you are sure to find a pen that suits your purposes in our selection. For an economical selection, try a simple BIC grip pen. It's got great quality and is at a low price. We also have promotional pens that make better custom employee gifts, such as our fountain pens and Apogee ball point pens. You may also decide for the old fashioned capped pen, these pens with your logo are a great leave behind for almost any event.
Order online or call one of our customer support specialists today at 1- 866-277-RUSH (7874).