Email Us
info@rushimprint.com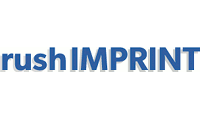 Loading...
Special Pricing!
As Low As
$0.22
Special Pricing!
As Low As
$0.29
Special Pricing!
As Low As
$0.39
Special Pricing!
As Low As
$0.32
Special Pricing!
As Low As
$0.23
Special Pricing!
As Low As
$0.44
Pens
Pens as a Promotional Product
Promotional pens and promotional pencils are one of our most commonly received requests. These custom pens are great for almost any situation, from office visitors, to tradeshow giveaways to employee gifts for their first day on the job! They are a cost effective promotional product, each of which can make your company's name and logo reach dozens people. You can't go wrong with ordering a promotional pen with your logo prominently displayed.
One of the best-selling promotional pens is the
Dart Pen.
The colors available include: Blue, Yellow, Orange, Green, White or Fuchsia with Black Trim. White with Blue, Purple, Green or Red Trim. Translucent: Purple, Red, Green, Blue or Black with Clear Frosted Trim. You must specify trim colors in special instructions section.
From click pens, to capped pens to highlighters, you are sure to find a promotional pen that suits your purposes in our selection. For an economical selection, try a simple
Budget Stick Pen
. It's got great quality at a low price. We also have promotional pens that make great custom employee gifts, such as our fountain pens and Apogee ball point pens. You may also decide for the old fashioned capped pen, these pens with your logo are a great leave behind for almost any event.
When you are selecting a promotional pen, you will want to consider your target audience. You won't select the same pen for a grade school group as you will for a professional audience.
The Essex Pen
allows you to reach out to executives, clients, or partners in business. The Essex Ballpoint Pen is a richly designed promotional ballpoint pen that registers a point in your name. It features rubber grip for better comfort and control. It is a handy promotional tool most companies can use on any occasion.
The sharp looking
Deauville Pen
features a barrel that is available in your choice of 4 great colors. Trimmed in silver with accents that match the barrel color, this pen provides a terrific way to promote your business.
The executive-style
Apogee Titan Red Lacquer Ball-Point Pen
has an unbeatable combination of style and quality. Features include a sharp red base, polished spring-loaded clip and a wide, satin-finish center ring.
A logo pen is carried around and used many times each day, putting your company on display over and over again. As a marketing tool, these custom pens spread your advertising dollar much further than many other methods. These promotional pens are not used once and thrown away, or tucked in a drawer or box. They give repeat exposure to your company, and are a constant reminder of hwat you do. As a branding item they are above reproach, and help to build good will for your business. An excellent choice for a custom logo pen is the
Dual-Tip Pen Highlighter.
This highlighter/pen combo offers great value as an addition to your marketing campaign. It has a Swiss nib, German ink cartridge, and is a twist pen with chisel tip highlighter. Comes sealed in cello-wrap for longer shelf life. I t is an ideal promotional item at any sponsored event. It can be ready in as little as one day, and can cost very little per unit.
The best-selling
Nash Pen
will give you a great advertising personalized pen for a reasonable price. The hourglass shape of this pen makes it comfortable to write with while providing a prominent place to display your logo or promotional message. Choose from 5 great colors. Other features include a Swiss nib and German ink cartridge.
When you are making your decision as to what the best investment would be for your hard-earned advertising money, an honest evaluation will tell you, rushIMPRINT's custom and promotional pens and pencils are your best solution. Promotional polo pens are the perfect solution when searching for a way to get your company information in front of a large group of people.
Any place where a large number of people are gathered -like conventions or tradeshows, in shopping malls, or at sports events - a promotional pen will get your message across in a very noticeable manner
.
When you provide your employees or potential customers with a tangible item that they can use at home, in the office, at the beach or wherever they might be, you guarantee yourself a lasting commercial advertisement. Promotional pens are seen not only by your customers, but also by those they come in contact with.
Personalized pens are a promotional item that will be kept and used over and over, unlike items such as flyers which are frequently used as giveaways at tradeshows and conventions. This makes them a worthwhile marketing and advertising tool that will provide you an excellent return on your investment. Custom pens are a powerful promotional tool. A good promotional product serves several purposes. It promotes goodwill to your customers and employees, reinforces the marketing of existing products and services; it can recognize employee performance, promote trade show traffic, and introduce new products and services. Whatever the aim of your marketing campaign may be, custom pens do this job exceptionally well.
Businesses that giveaway promotional pens as part of their marketing campaign greatly increase their opportunities for increased customer base, increased reputation, and increased revenue. Promotional pens can also serve as a continuing stream of income for a business. Some companies choose to sell their custom pens rather than using them just as giveaways. Examples of this are school teams, sports teams, and local businesses such as ski boat rentals and amusement parks.
Order your promotional pens, logo pens and imprinted pencils online or call one of our customer support specialists today at 1- 866-277-RUSH (7874).