Email Us
info@rushimprint.com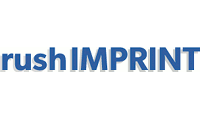 Loading...
Cookies
Custom Cookies
Customized cookies and logo cookies at rushIMPRINT from 87¢
Logo cookies are a delicious way to advertise a business.  Custom cookies with a company logo are a unique way to promote a company.  Potential customers are quite likely to remember this type of advertising.
A company might want to serve customized sugar cookies for refreshments at a meeting with representatives from other companies.  Custom sugar cookies could be made in rectangular or circular shapes.  An image of the company's business card could be imprinted on the frosting of a rectangular cookie.  A company logo might be used to decorate round cookies.   Any photo, logo, picture or business card can be transferred right to the top of a delicious, fresh baked 2.5" Custom Picture Sugar Cookie glazed with white sugar icing.  All cookies are 100% nut free.
One of the best-selling and most popular custom sugar cookies is the 2.5" Picture Sugar Cookie.   These custom cookies are not only handmade and baked just for you, but are also exceptionally tasty.  Each image is printed with an edible food dye on frosting sheets, and then glazed onto a round cookie with sugar icing.  Images can have a dimension of 1.75" by 1.75".   Cookies come individually wrapped.   
The Gold Clear View Box of Six Oreo Picture Cookies is another great choice of a custom photo cookie that can be used in business promotions.    Your image (photograph, drawing, logo, etc.!) is printed in 100% edible ink on delicious sugar paper and applied to the chocolate dipped cookie!  We create a 'Picture Frame' by sprinkling your choice of sprinkles.   It is presented in a stunning Gold Box of Six Cookies complete with a clear acetate top for a "picture perfect" customized cookie gift!
A business looking for a unique method of advertising can keep a tray of Edible Business Cards at a reception desk for office visitors.   These Graham Crackers are wrapped in luscious Belgian White Chocolate and decorated with a 100% edible image of your business card! This wonderful creation measures 2" by 4" before being dipped and decorated with custom-blended candy sprinkles in your choice of colors.  These custom cookies are sure to get you noticed! They are individually wrapped in crystal-clear cellophane bags and heat-sealed at both ends for freshness. 
Another best-selling custom sugar cookie is the 4" Edible Greeting Card Cookie.  Add a logo and some of your company information and watch for the delighted reactions of your customers!  RushIMPRINT offers a wide variety of custom cookies that have shown time and time again that they will serve your business needs and leave a lasting impression.  Custom cookies are a mouthwatering way to make a sweet impression on potential customers.
Your company logo is a very important part of your marketing efforts.  A unique way of presenting your logo to the public is with a logo cookie! They are available in many different styles.  Corporate Logo Biscotti are hand-dipped in real Belgian White Chocolate, sprinkled with delicate Nonpareils.  On these custom cookies, your customized text is added and it's 100% edible.  Choose a Biscotti flavor -either Almond, Chocolate Almond- Or, go for a delicious combination of both varieties.  They're perfect for dunking into your favorite hot or cold beverage! Each Picture Biscotti is individually wrapped and heat-sealed at both ends for freshness and quality.  These custom Biscotti frosted with a company logo go well with coffee served during meetings.   
If you want something a little smaller, try the Logo Baby Biscotti.  These Baby Biscotti are hand-dipped in real Belgian White Chocolate, sprinkled with delicate Nonpareils, your customized artwork- (logo or picture) is added and it's 100% edible. 
The Giant Logo Fortune Cookie is no ordinary fortune cookie…it's the ULTIMATE personalized Gift & Greeting all-in-one! Imagine a fortune cookie the size of a football, hand dipped in luscious White Chocolate with a personalized fortune inside and a 100% edible image on the outside! Personalize the fortune up to 10 lines in a 3.25" x 1.8" area! Presented in a traditional crisp French Cellophane Bag and tied with an exquisite sheer wired ribbon, this cookie is GUARANTEED to make a BIG impression!  Fortune cookies decorated with frosting with a company logo can be served at company parties or picnics.  Serving these logo cookies will advertise the company to guests who are not company employees.
Chocolate Picture Coins are available in Milk or White Belgian Chocolates- our solid Chocolate Coins are imprinted with your edible artwork- photos, logos, monograms-.  If a picture is worth a Thousand Words our scrumptious Belgian Chocolates are worth a Billion! Chocolate Coin diameter is 1.5"- maximum imprint area = 1.25".  .  Coins are individually wrapped in Crystal Clear Cello Bags and heat sealed at both ends
Tins of Mrs. Fields custom cookies are great gifts for business customers and employees.  The tins can be decorated with a company logo or a company name.  These tins of custom cookies will be brought to offices and homes.  People who are helping themselves to cookies will see the company name. 
Mrs. Fields 15 Nibblers Bite Size Cookies come in an elegant, simple gold tin which shimmers behind your company name or logo.  Each comes filled with a pre-selected assortment of cookies or Nibblers bite-sized cookies in the size you select.  The imprint of your logo on these tins can be displayed in an area up to 4" x 4".
When you're making your decision as to what the best investment would be for your hard earned advertising money, an honest evaluation will tell you, rushIMPRINT's custom cookies are a great solution.  Make a lasting impression, one that will stand out in your customers' minds.
Order logo cookies online or call one of our customer support specialists today at 1- 866-277-RUSH (7874).