Dental Promotional Products
Dental promotional products are a powerful tool to help promote your dental practice amongst potential patients. Whether you're a general dentist, periodontist, orthodontist or any other type of dental health professional, you'll need to sustain a steady flow of new patients for your practice to succeed. By handing out custom dental products at trade shows, at community events, and even to patients that walk through your doors, you'll be able to promote your brand while promoting dental health.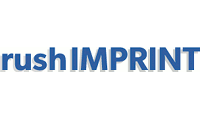 Loading...
Dental Marketing Supplies with Function

The best way to get noticed with your promotional dental items is to give away something that will get used. For starters, creating your own personalized toothbrush is a must-have for any and every dentist. Pairing your custom toothbrush with custom dental floss is a perfect gift for every patient that comes through your doors. By handing out your own custom dental products, you'll be able to bring in return customers as they start to recognize your brand.




Educating While Promoting

By educating your young dental patients about oral health with your own promotional learning tools, you'll also be boosting brand lift amongst parents and youth. rushIMPRINT offers a number of dental promotional items for kids like story books, coloring books, and puzzles. These dental marketing supplies will teach kids the importance of brushing, flossing, and repeat visits to your dental practice.

 

Promotional Items with a Dental Twist

Anything and everything at rushIMPRINT can serve as a promotional dental product as long as you properly customize it with your brand and logo. In addition to personalized toothbrushes and custom floss, you can also shop for business card magnets, stress relievers, bags, pens, anything else that you can imagine.




Dental Promotional Products with rushIMPRINT

When your dental practice hands out custom dental products with your name and logo, you'll be sure to stand out. At rushIMPRINT, we want to make sure that promotional items for dentistry and otherwise are of the highest quality and exactly what you were expecting. We always aim to send art proofs within a couple of hours then customize your products in a few days. We understand the importance of a reliable branding partner, so rushIMPRINT will be at your side for the entire process when creating your own dental promotional products.