Custom Food & Beverage Products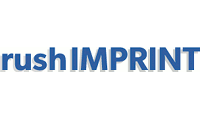 Loading...
Sweet Treats Personalized with your Logo
Nothing gets the ol' sweet tooth aching quite like saccharine thoughts of scrumptious cookies and candies dancing through your head. Sometimes, the sound of a crumbly cookie-crunch is enough to bring out the inner Pavlov's Dog in any sweets-lover. Just visualizing sinking your teeth into a flaky pastry is enough to get the drool flowing. And who could blame you? With all the technology at our disposal, engineering the perfect, most palatable dessert has never been more efficient. Don't get me wrong, grandma's home-baked apple pie will always hold the top spot in my heart, but when Nabisco is cranking out such wild innovations as the cookie dough stuffed cookie, it's hard not to take notice.
Well, at Rush Imprint, we have some good news: (or bad news, depending on whether or not you're on a diet.) We're able to make these delicious treats just a little better by adding a touch of customizability. Can't decide if you want a custom cookie or a slice of delicious devil's food cake? Why not imprint the image of one onto the other to satisfy all facets of your sweet lust?
Think we've only got cakes and cookies? Please. We've got zounds of different confectionary pleasures from which to choose, all of which are completely customizable. Want some personalized M&M's or a custom chocolate? That was a rhetorical question, of course you do, and don't worry, we've got those in stock. If you're after a more savory or salty treat, rushIMPRINT also carries a variety of nuts as well as sunflower seeds. Unfortunately, you can't have each individual nut imprinted, but their containers certainly can be. Additionally, if you're feeling extra generous, try one of our gift baskets and surprise your friends, family or coworkers with a personalized, imprinted token of your gratitude.

Indulge yourself today and order online or call one of our customer support specialists at 1-866-277-7874.
Custom Food & Beverage Products FAQ
What kinds of custom foods can I design at rushIMPRINT?
You'll find hundreds of promotional food items available on our website. You can shop for many of the favorites, like custom chocolates and custom wrapped candies, but we also recommend our custom s'mores kits, which are also surprisingly popular. Our custom snack baskets and towers may feature a multitude of custom food products with each order. For a custom beverage, you can also make your own water bottles, energy drinks, and cocoa mixes.
Are custom food products going to be fresh when they're delivered?
Yes! Many of our custom foods and custom beverages are non-perishables, but we also guarantee all of your custom chocolates and custom baked goods will be fresh and ready for consumption upon delivery. As part of our satisfaction guarantee, please let us know if your order isn't up to standards and we'll be happy to accommodate you.
Who can I gift promotional foods & beverages to?
Branded food and beverage products are extremely popular as corporate gifts. Sending a personalized snack basket or box of cookies with your logo on them shows that you care about your vendors and clientele. But custom foods don't have to be for work. You can also send custom candies and baked goods to your loved ones around the holidays.
How many branded food items do I need to order at once?
Each of our promotional food products and beverages will list the minimum order size before you submit your order. Some of the foods in our custom baked goods section and custom snack baskets section have minimum order sizes of only one. This allows you to create a quick one off order for a friend, co-worker, or yourself!
Can I have a sample of my custom food products before placing an order?
While we won't be able to send you any chocolates, candies, or cookies to taste beforehand, we will be able to show you art proofs. You'll be able to see exactly how your design fits on a promotional beverage or food before finalizing your order. Depending on when you send your design, you may receive your art proof within a few hours of placing the order.