Email Us
info@rushimprint.com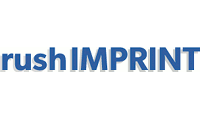 Loading...
>

>
Stationery
Pedova Soft Bound JournalBook
Ambassador Bound Journalbook
Pedova Large Bound Journalbook
5 x 7 Snap Elastic Closure Notebook
5" x 7" Recycled Pocket Notebook
Pedova Jr. Zippered Padfolio
Ambassador Large Bound JournalBook
Revello Pocket Soft Bound JournalBook
Revello Soft Bound JournalBook
Custom Promotional Stationery
Custom notebooks and promotional folios are great to new employees to take notes during on-boarding or to office visitors so they can take notes on your presentation. Groups who have a lot of note taking to do, such as a sports team or classroom, can sell or giveaway custom notebooks with your company's logo. These products are durable, particularly the leather bound folios, and so they last quite a while.
Choose from spiraled to ring-binder folios. Remember that promotional ring bingers can be added to over time, while regular notebooks will eventually run out of paper. If you're looking to give something that will remain useful and stay with the recipient for years look no further than our customized folios and notebooks!
Order online or call one of our customer support specialists today at 1- 866-277-RUSH (7874).