Email Us
info@rushimprint.com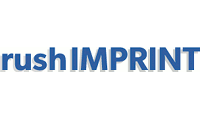 Loading...
>

>
Gift Baskets & Tins
Mrs. Fields 28 Nibbler Classic Red Tin
Mrs. Fields Sweet Sampler Custom Gift Basket
Snowflake Wrapped Box of Holiday Treats
Mrs. Fields 12 Full-size Cookies Platinum Round Tin
The Royal Tin - M&M, Mixed Nuts, Caramel Popcorn
The Chairman Gift Box - Caramel Popcorn & Cookies
Large Film Reel Tin - Movie Pack
Custom Personalized Gift Baskets & Tins
Not sure about gift boxes? Dial 1- 866-277-RUSH (7874) and let us help you. Choose anything from popcorn filled bags to travel mugs and imprint the name of your brand on it. Don't wait until it's too late! Call now and get our best food gifts.