Company Logo Pens
Our company logo pens are the perfect promotional tool. Pens are functional and convenient. They can be used literally all day long and taken everywhere. Strategically place promotional pens with a logo at your front desk or cash register. Pass them out to employees and encourage customers to take a few pens home with them.
Your company logo will travel to your customer's job, their teenager's high school or even take a trip with them to the dentist's office. Everyone needs a pen. It's time to make your pen the one that comes in handy when they need it!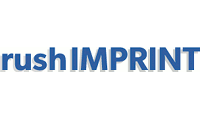 Loading...
Product Features

Convenient Size

Sleek Writing Performance

Polished and Timeless Design

Smooth and Constant Flow

Use Your Writing Instruments With

Price Match Guarantee

If you find company logo pens somewhere else at a lower price than what we offer, let us know. We will match the price, guaranteed. All you have to do is send us an official quote or URL from their business. Simple and hassle-free.

Our Customers Love Us

We are very proud of the fact that we have excellent customer ratings. Our customer's satisfaction is our priority and our guarantee.

A rushIMPRINT customer never has to stress about delayed production times. No matter the quantity of promotional pens with logos you order, our production time is only 1-3 days. Order with us today and we'll start production right away!

We Ship Internationally

We offer international shipping! We'll get your order to you whether you're in the United States, Canada or anywhere else in the world. Order now!