Custom Table Covers & Throws
Decorate your office and trade show booth with custom table covers from rushIMPRINT. We offer several designs of custom table throws that will really make your table pop. You can choose from over a dozen different types of throws that will put your design front and center. With so many colors and sizes available, we're certain you'll be able to create a printed table throw that truly accentuates your brand.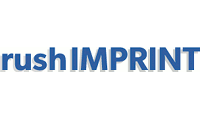 Loading...
Color is Key

One of the benefits of creating custom trade show table covers with rushIMPRINT is our robust selection of colors available. Some of our custom tablecloths have 18 different colors to choose from, in addition to the coloring in your logo or design. For even more flexibility, you can order table covers with full-color imprinting, giving you even more design control over the finished product.




Showcasing Your Brand When You Need to Most

Trade shows are a great opportunity for your company to meet new customers and investors, so you'll want to make a good first impression. Customizing your trade show booths with imprinted table throws will allow you to incorporate your brand's colors, logo, and messaging consistently, reinforcing brand recognition and identity. With a custom printed table throw, you'll differentiate yourself from competitors with generic table setups.

Custom Tablecloths with Plenty of Uses

While these throws work great as trade show table covers, you can also use them around the office. Filling your office with the company's logo can create positive associations with your brand, so try adding these throws to the break room to create an aura of team spirit. These custom tablecloths come in 6' and 8' sizes, so you're sure to find one that fits!




rushIMPRINT Is in Your Corner

As a small business, we understand the importance of branded merchandise. That's why we take extra time and care to ensure that every order features high quality products with high-quality imprints. We try to go above and beyond with our customer service, so please contact us and we'll be happy to assist you with your order.