Email Us
info@rushimprint.com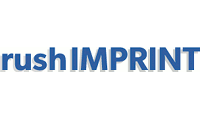 Loading...
>

>
Custom Promotional Towels
Several times each day, everyone has reason to use a towel of one type or another. Custom towels can easily replace the ordinary towel, and these promotional towels will be busy spreading your company logo again and again. The best promotional item for your marketing campaign is one that is inexpensive, and offers you as much exposure as possible for your investment. Imprinted towels offer you a high return on your investment.
Custom towels offer a large area to display your logo, so that it will be easily noticed. You can also include company name, address and phone number, or a slogan that is catchy and asily identified with your company on these imprinted towels. Providing your future customers with a custom towel that they can take home, attach to their sports bag, or take to the beach with them, you have provided yourself what amounts to a daily commercial. This type of walking exposure is like a walking billboard that costs you nothing. These promotional towels are seen not just by your customers, but by everyone they come in contact with.
Custom towels come in many types and styles, from the huge beach towel that is used for wide exposure at beaches and pools, to the custom golf towels that attach easily to a golf bag, and appear on golf courses everywhere, to custom sports towels that can be seen at so many sport venues across the country. PROMOTIONAL RALLY COTTON TOWEL is a custom towel that offers great value in your marketing campaign. This 100% cotton towel measures 11\" x 16\". It is flat woven and hemmed. The rally towel makes great promotional tool for corporate giveaways or any special occasion. A light weight sport towel for all sporties makes a giveaway that will be used and remembered for a long time. The best selling Custom Rally Towel has a large 5\" x 11\" area to Imprint your logo or other company information. The Jewel Collection Soft Touch Sport Towel is made of 100% cotton and is designed to absorb moisture just as a sportsman would require, the sport towel include a terry velour. The Go Go Rally Towel is perfect for use when you are specifically targeting an audience segment. His makes the use of custom sports towels most effective. The promotional towel is chosen to appeal to that specific group of people, creating a positive response and preventing distribution where it would not be appreciated. This makes sure that the dollars that you set aside for advertising do the most good. Custom towels can be found in different sizes, colors; heavy weight, mid-weight, light eight; and they can be sold in sets or they can be purchased as separates. Their woven composition of soft and absorbent fabrics allows the water to be disposed of easily. Custom golf towels are a favorite with everyone, and make a great giveaway at a tradeshow or convention. All of your customers will appreciate them, as will your employees. Custom golf towels come in many styles and colors, so that you can customize them to match the color scheme that fits your company logo. The Terry Golf Towel has a large 11\" x 14\" area to imprint your company logo for extra visibility. It is made of 1.3 lb./doz. Terry velour. This hemmed lightweight golf towel includes corner grommet and hook. The Diamond Collection Sport/Golf Towel sports terry velour with dobby hems and measures 16\' x 25\'. This midweight 100% cotton sport towel carries your brand in full glare. The price includes 1 color imprint and embroidery is also available. Please call rushIMPRINT for details. This custom golf towel will definitely give you a good return for your money. Still another excellent choice of a custom imprinted towel as to use as a giveaway giveaway at a tradeshow or convention is the Laguna Golf Towel Golfers can keep their valuables close at hand with this pouch. The quick clasp attaches to standard golf bag d-rings. This bag has plenty of room to secure car keys, wallets, cell phones and other valuables as well as plenty of room for golf accessories. The designs that are available on towels are endless and colors are vast. Custom towels and personalized towels are just as trendy. There are many designer towels including collections by Platinum, Diamond, Jewel, Cutter and Buck Club, Classic, and Port & Company. Towels are beneficial and always needed whether they are custom towels or personalized towels. TV commercials, radio commercials or print ads can be highly expensive, and not always effective. You can try using promotional products instead. Giveaway items such as custom golf towels are cheaper than other forms of advertising and have many advantages. The Laguna Golf Towel is a good example of this type of custom towel. An imprinted towel, distributed at a tradeshow, convention or local event can also facilitate increased business opportunities. Customers prefer to purchase products and services from a reputable company. The use of a product like a custom promotional towel helps create the idea that your company is stable and professional. Also, distributing giveaway items to the public at festivals, fairs, or other local events. The JEWEL COLLECTION BEACH TOWEL is a good example of an imprinted towel that will help advance your business. Jewel collection beach towels measure 30\' x 60\' with terry velour, twill hemmed velour. They have a large imprint area of 23\" x 50\" that allows you to place all of the information that you need, in a large, easy to display size. Businesses that giveaway promotional towels as part of their marketing campaign greatly increase their opportunities for increased customer base, increased reputation, and increased revenue. Promotional items can also serve as a continuing stream of income for a business. Some companies choose to sell their custom items rather than using them just as giveaways. Examples of this are school teams, sports teams, and local businesses such as ski boat rentals and amusement parks. Order your custom towels online or call one of our customer support specialists today at 1- 866-277-RUSH (7874).