Custom Pens & Pencils
People don't buy pens often, yet we always seem to have one around when needed. It's proof of the prevalence of pens as branding. So why would you ignore that opportunity for your own company? Get custom pens with your logo and see your brand recognition spread far and wide as clients, customers, and employees use them everywhere!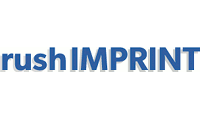 Loading...
Pen Preferences

Promotional pens run the gamut from understated and elegant to fun and attention-grabbing. That's why we have a wide selection of options. We have sturdy, simple metal pens that are designed to last and custom-shaped bentcils that will keep your brand memorable. Whatever you need to get the perfect custom pens with your logo, we have it in our catalog.

Small Tool, Big Impact

We love promotional pens at rushIMPRINT because they remind us of ourselves. We're a small business that makes an impact on the business world, just like your favorite pens or pencils!

Of course, pens make their mark through writing, while our impact comes from having a huge selection of high-quality products and offering excellent customer service on every order.

Plus, we send art proofs within hours of you placing your order, we can turn products around in 1-3 days and we guarantee your satisfaction upon receipt. If your order doesn't arrive exactly the way you approved it, you can return it for credit or a refund. It's this kind of impact that earned us a 4.8* average rating on Trustpilot after over 200 reviews.

The Complete Writing Set

If you want to stay "penciled in" on your clients' calendars, go the extra mile and hand out promotional pens with everything else they need for writing. Stationery is an obvious must for business and personal use, paperweights are still handy and classy, and sticky notes still get used every time you need a short handwritten message.
Custom Pens & Pencils FAQ
What types of custom writing instruments are available?
A majority of our custom stationary is made up of different custom pens and custom pencils. You'll find that there are countless options, like inexpensive plastic pens or high-quality metal pens. In addition to pens and pencils, you can also design your own custom highlighters, gel pens, and colored pencil sets.
Do you offer any premium custom stationery?
Yes. rushIMPRINT offers a selection of Baronfig rollerball pens. These black-ink pens are made with industrial grade aluminum barrels and stainless steel tips. Each comes with a laser engraving of your choice. As you'd expect, these premium custom pens also come with a premium price tag.
What makes each custom pen/pencil different from the next?
We offer hundreds of promotional pens and pencils at rushIMPRINT, so it can be confusing when trying to narrow down your options. Luckily, we have many of our custom writing instruments categorized, so you can quickly explore light-up pens, twist pens, ballpoint pens, retractable pens, full color pens and more.
What is a custom stylus?
Unlike branded pens and pencils, a custom stylus is not for writing. A custom stylus is designed as an accessory for tablets and other smart devices. A stylus has a special tip that can be traced on a touchscreen, allowing you to create intricate drawings and write messages in freehand.
Do you offer any promotional writing accessories?
Yes. In addition to our personalized pens and pencils, you can also create your own custom writing accessories. A few of the most popular items are branded erasers, which pair great with branded pencils, and custom pencil cases, which make traveling with your writing instruments a breeze.