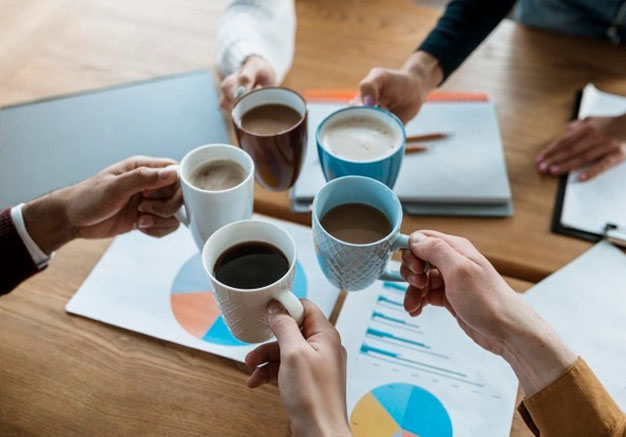 If you open your cupboard, how many promotional mugs or corporate giveaway mugs do you see? They're a classic with good reason. People love mugs.
Branded mugs check off quite a few boxes for marketing products.
It's easy to read your logo ✔️
They have perceived value ✔️
Mugs are cost effective ✔️
Everyone can use one ✔️
Mugs fit all events ✔️
Used repeatedly ✔️
But at some point, people feel like they have enough mugs and start to shy away from them. Or they're at an event, like a tradeshow, and more than a few different companies are giving out branded mugs – which one do they pick? Well, I've got your solution!
What are the Most Effective Promotional Mugs
Don't get me wrong, a classic coffee mug is great, and I use them every, single day. But if I'm offered a free coffee mug or one of these mugs, I would want the promotional mug that's different and feels fresh.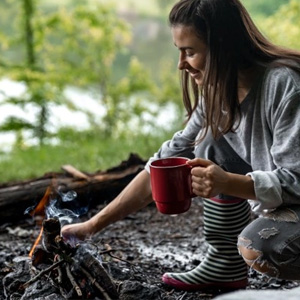 1. Campfire Mug.
The nostalgia of a campfire mug makes this a quick hit, even with people who have never gone camping. Just the idea of sitting around a campfire with friends drinking hot chocolate and making s'mores is reason enough to select this logo mug.
2. Stir'N Sip Mugs.
Did I mention hot chocolate? To get a really great mug of cocoa, you need to stir it ever so often to make sure the rich chocolate doesn't settle on the bottom. There's nothing better than the stir'n sip mugs for this. If you're looking for a tradeshow mug, these are a huge hit because they instantly have that extra something that makes them special.
3. Glass Mugs.
There's a little novelty with the glass mug, and if you're looking at a lot of traditional mugs, this fresh approach is what's going to be the deciding factor. I think it's a wonderful way to display your logo.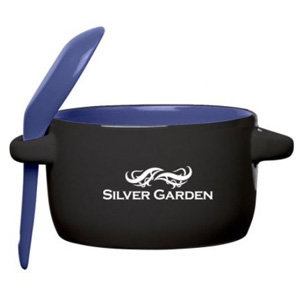 4. Soup Mug.
Why does coffee get all the attention? A great soup mug is a fun idea and it's something that most people don't have in their cupboards. Not only are you grabbing attention with a new approach to mug gifts, but you're making the most of the cozy and comforting vibe that soup has. Now that's a win/win.
5. Thermal Mug.
If you like the soup mug idea, then the thermal mug is sure to appeal. Microwave safe, these handy mugs keep food hot or cold and they include a folding fork and spoon under the lid. Now that's a promotional mug that really gives your customers more.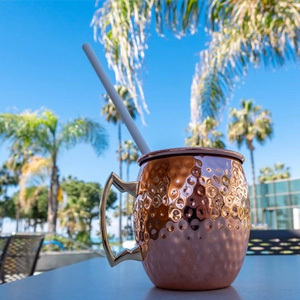 6. Moscow Mule Mug.
Moscow mules are a very trendy cocktail and part of the appeal is the copper mug. Why not increase the appeal of that mug by adding your logo.
A little tip from me – Go that extra step and create your own company mule recipe (just add some muddled fruit to the original recipe) and print out branded recipe cards to include with the mugs.
6. Mug Gift Sets.
A mug that offers more is a logo mug that's part of a gift set. Fill your mug with sweet treats like this Rise & Shine Gift Set or pick one of our other mug collections to show those special clients or even your top-performing employees that they're important and you recognize their value.
7. Dessert.
Now this is a sweet idea, it's actually not a mug at all, but you can certainly create a package and include your branded mug. We have several different dessert-in-a-mug mixes that are designed to be made in the microwave in a standard microwave-safe coffee mug. Pair this dessert with your logo mugs and your SWAG gift will be the hottest item at your next event.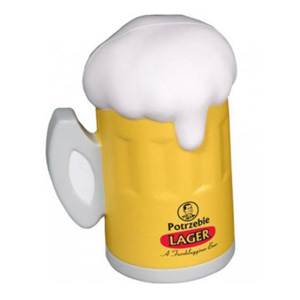 8. Mug Stress Balls.
How about a mug that's not a mug and a stress ball that's not a ball. This whimsical beer mug stress reliever is just plain fun. It's not going to be found in anyone's kitchen cupboards and it's sure to put a smile on their face. And that's exactly what you want, people to be smiling when they see your logo.
Custom Mugs have always been a great company giveaway. Now, they're just getting a little more exciting and you can find ways to tailor them to your market so they're more appealing. The goal is to come up with the best corporate mug so your branding stays in their hands or cupboards as long as possible. Which mug will do that for you?
If you're interested in any of these mugs or other promotional items, stop by our website and chat with one of our representatives or give us a call at 866-277-RUSH (7874).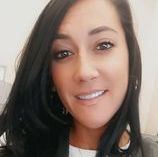 Danielle is one of our most popular customer services representatives and has boundless enthusiasm for helping others. She brings that level of excitement to her blogs and is always excited to share the latest info and newest products. If you're looking for inspiration for your next promotion, check out her posts.