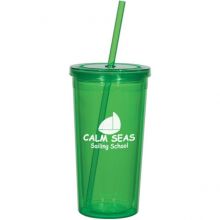 Are you tired of your boring old travel mug? Does it tip over and spill hot coffee all over you? Then try one of these 16 oz. Acrylic Tumblers with matching straw. These sleek and shiny tumblers are perfect if you're constantly on the go and are great for hot and cold drinks. Your kids will love the colors and you'll love the affordability!
They're an ideal size for little hands to grasp, and they are shatter-proof. These tumblers will last a lot longer than plastic bottles and paper cups, plus they help the environment because you aren't throwing your used cups and bottles out. These tumblers with matching straws are also great for the beach, keeping your drink nice and cool while you are out in the hot sun.
The 16 oz. Acrylic Tumbler with Matching Straw is stain resistant and made of high quality Co-Polyester. It can withstand up to 150 degrees F, while its double walled construction will keep your cold beverages icy. The tumbler comes in a variety of colors from clear/red to clear/teal and lots in between. They are also BPA-free.
These Tumblers will make a terrific promotional item. Hand these out at sporting events where people need lots of refills in the heat. Conventions and conferences let people drink hot or cold beverages out of the same cup. Your company name or organizations logo looks great when printed on the cup. Hand them out at the fair or even an exhibit. Maybe even at the mall where dozens of people are spending money and appreciate a free sample! Order your Clear Double Wall Tumbler with Colored Straw today!