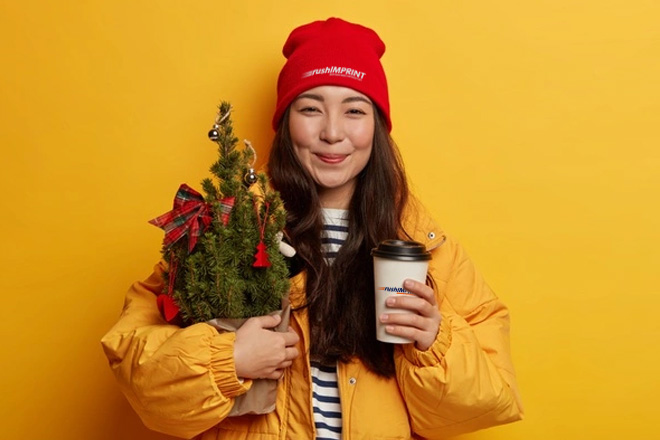 The holidays are here and it's time to load your favorite customers and potential clients up with gear that they're going to love. We all know, the more they love your promotional apparel, the more they wear it and every time they do it's like a little walking advertisement. So, let's get to the good stuff – what are this season's most popular promotional apparel for the holidays.
1. Company Jackets
Outerwear to ward off the weather, like an insulated jacket, or sporty jackets for wear all year long. The more flattering the fit and the better the brand, the more popular a branded company jacket is. It's true, when it comes to promotional apparel, the brand that makes the item is going to be what makes it appealing to your audience and then you can make the most of that with your own logo.
*rushIMPRINT Tip – This year we recommend a top-quality fleece jacket, they'll get a lot of wear indoors and out, because they work both as a grab-and-go jacket or part of a layered look.
2. Hoodies
A perennial favorite, hoodies are always a hit with added warmth when you need it and if there's a kangaroo pocket, it's an extra bonus. While t-shirts can be hit or miss, people tend to love getting a hoodie.
At rushIMPRINT, we've noticed that the more "interesting" the hoodie is, the more they like it. What do we mean by interesting? Prints and patterns are hot, lightweight burnout hoodies have an irresistible softness, and the eco-minded consumer will like the hemp sweatshirt.
*Did you know – hemp fabric is stronger than cotton, has natural UV resistance, anti-microbial qualities, and anti-odor properties?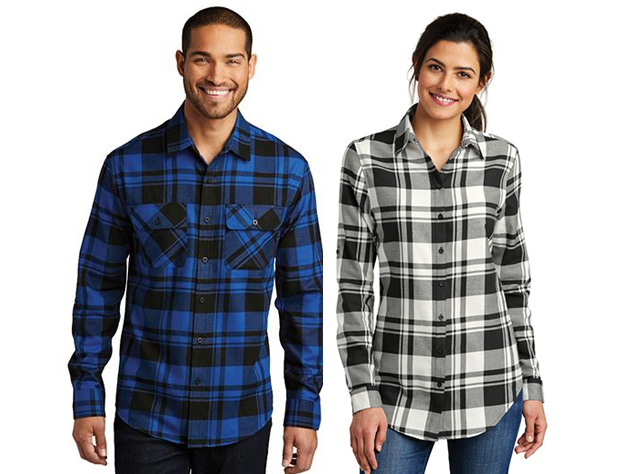 3. Plaid Flannel Shirt
Wardrobes are shifting to more prints and patterns and plaid is an easy favorite. A bold plaid goes hand-in-hand with chilly weather, a mug of hot chocolate, and trudging through the snow. We have customized men's plaid flannel shirts and customized women's plaid button-ups. To top it all off, they're made by Port Authority, a highly rated brand.
*Style tip – People are so mad for plaid right now that mismatched and layered plaid looks are everywhere.
4. Beanies (with a PomPom)
Beanies are simply brilliant when it comes to cold weather marketing. First of all, they're practical, comfortable, and warm. This will leave your function-first fans thrilled with the smart grab-and-go warmth. Secondly, they're trendy (especially with a pompom on top) and your hip crowd will be wearing them as statement style pieces indoors and out.
These portable branded caps easily get scrunched up and tucked in pockets and purses so they can be pulled out when needed. They're super cost-effective ways of marketing your company and appealing to a wide variety of people.
*Terms – A beanie is also referred to as a tuque and when you put a pompom on top, it's called a bobble hat or a bobble cap in some regions.
5. Keep Warm Buddy Sets
Okay, I have to admit, the keep warm buddy set is one of my personal favorites because I love a kit or a set – it makes me feel like I'm getting a bonus, and that's exactly what this is. Why pick one cold weather promotional item when you can give the gift of a set.
Packed in a handy and reusable branded bag, this cold-weather accessories set features a soft brushed polyester fleece scarf, gloves, and a beanie. It is an instant hit with your recipients because it feels like a complete gift and something worth having. It's also surprisingly cost effective for how much you're getting.
*Stat – 82% of people have a more favorable impression of a brand after receiving a promotional product – so spread some holiday cheer!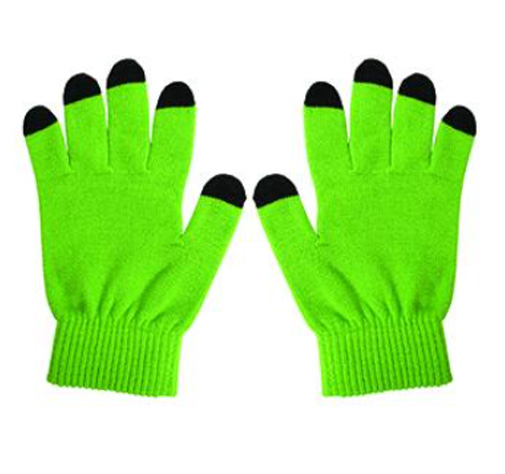 6. Touch Screen Gloves
I had to add a sixth cold weather promotional apparel gift to this list because it's a must – Touch Screen Gloves. I keep a pair in the pockets of every coat I own, and I suspect I'm not alone. They add just the right amount of warmth and protect your hands while you're fiddling with your phone – and who isn't fiddling with their phone?
Imagine sending these to your favorite customers, having them as giveaways at your next tradeshow or event, and even keeping a basket of them at the front desk for pop-in visitors. It's a fresh idea that everyone loves.
*rushIMPRINT bonus – When your promotional glove recipient is looking at their phone (which is constantly), they're also looking at your branded logo. Now that's smart marketing!
If you're interested in following-up with any of these or you have a holiday promotional gift idea of your own, pop over to our promotional apparel at rushIMPRINT.com and you can use the chat button to talk to me or another of our customer service reps and we'll get your order started. There's no time to lose and we're ready to make this holiday season a great one for your business.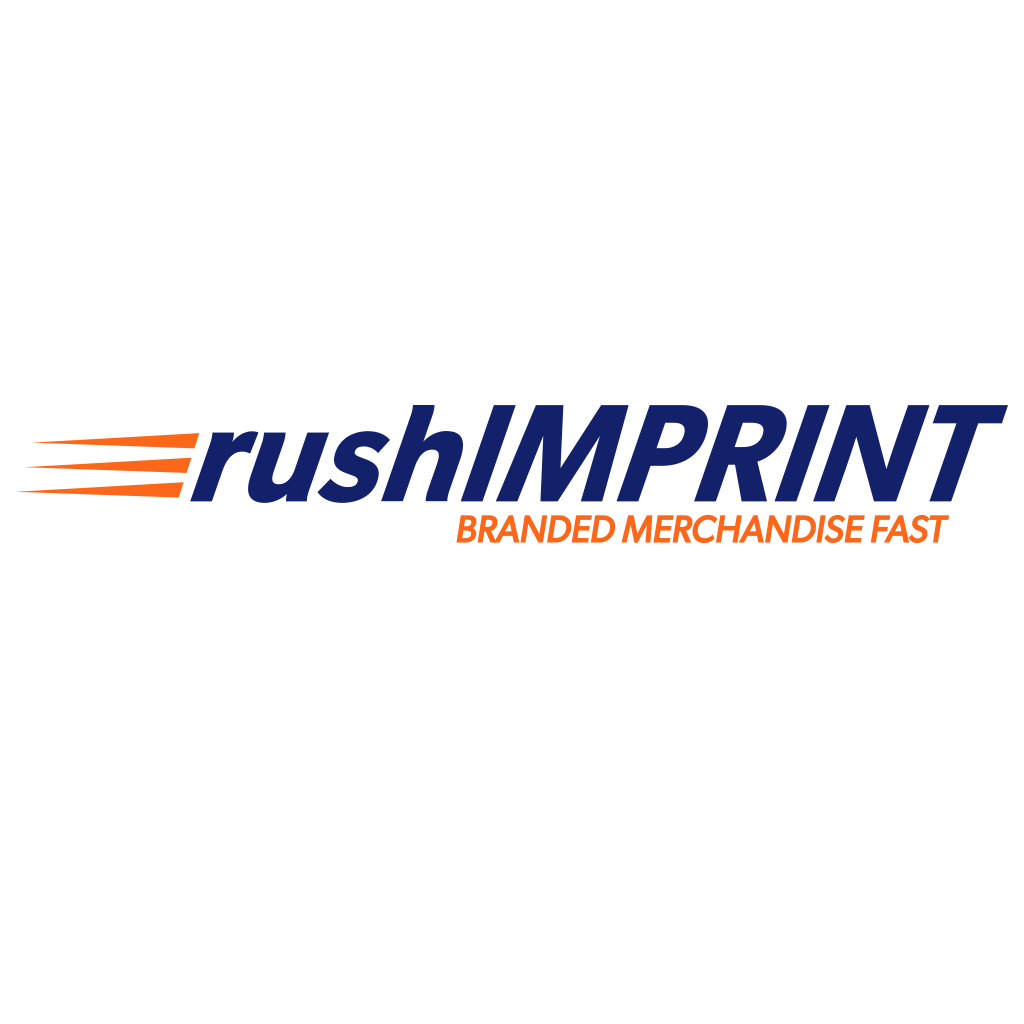 Kari is a customer favorite and earns raves from those she helps, she also wins raves from us for her blog contributions. Kari's particular skill is coming up with helpful hints and tips that can help our audience make the most of their marketing and promotions. She's full of great ideas and wants to share them with our blogging audience.