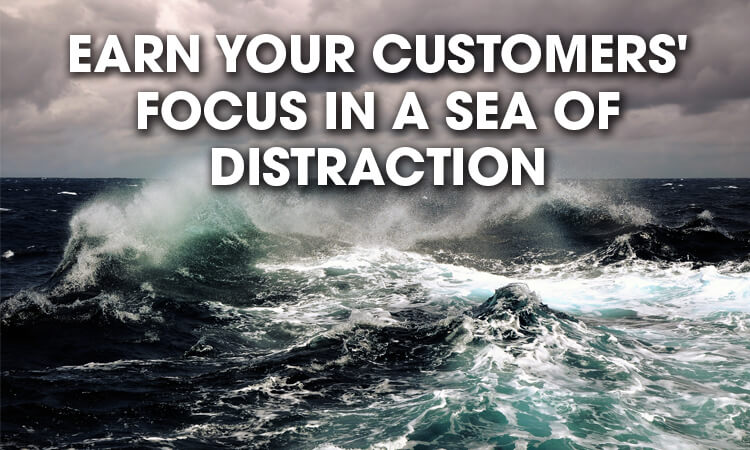 Over the years, American advertising has grown from humble beginnings into a pervasive medium present in nearly all facets of our life.
Think about it.
If you take a look around you right now, I'd wager there are at least several things within your line of sight that are imprinted with a company's logo. As I'm typing this, nearly a dozen items on my desk are branded. My décor is minimalistic, too, so most of these logos are on things I use every day-my keyboard, mouse, monitors, etc.
This speaks to the prevalent nature of branding in our culture. Unless you're clad in homemade clothing and backpacking through the wilderness, nearly everywhere you go is likely to be smattered with a logo of some sort. Pair this branding saturation with the increasingly short attention span of the average adult (8 seconds) and you'll likely come to one inevitable conclusion:
To earn customers' attention, you need to say something unique.
A task not so easy in today's market where in just one minute, Facebook users like over 4 million posts, Twitter sees 347,222 tweets, and Snapchat users share 284,722 snaps. As illustrated below, the amount of big data generated every 60 seconds is overwhelming.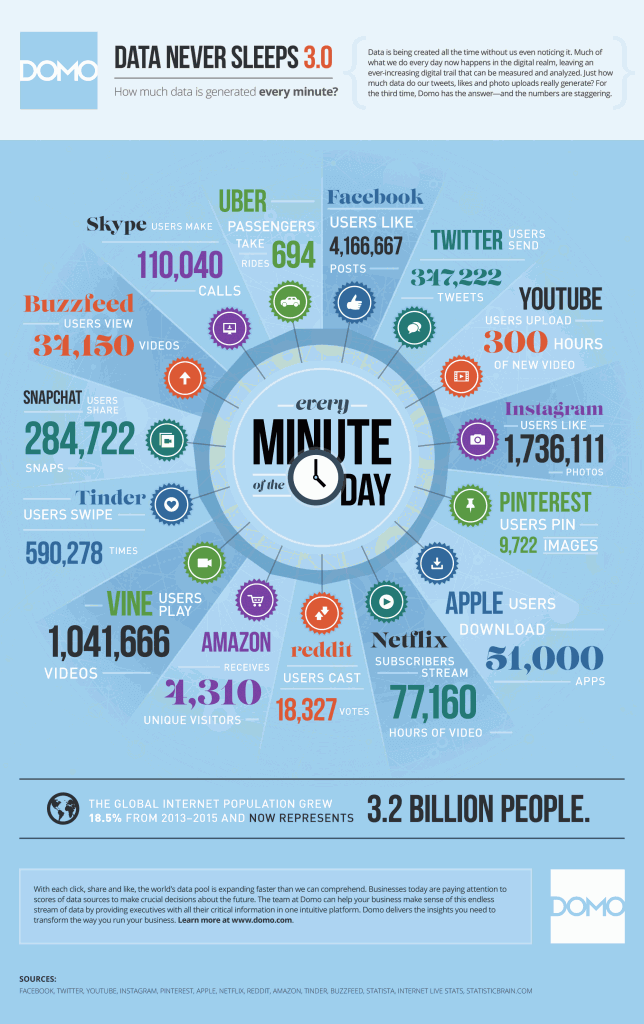 With this degree of content overload in mind, it's clear to see how earning customers' attention is extremely competitive. This wasn't the case in American marketing's infancy. In the late 1700s, marketing consisted mainly of colonists advertising goods on-hand. The messaging was basic, dry, and purely informative. Flash forward a couple hundred and a half years, and marketing has, out of necessity, evolved into a colorful and creative art form.
To stay relevant, marketers are constantly thinking of fresh ways to promote their brand. It's no longer enough to put your product or service on a billboard and wait for orders to come in. You need to be active and engaging in your messaging. Your need to not only speak to the problems your product or service can solve, but it also must resonate on a personal level with your audience
Native advertising is a medium so clever, you can hardly tell what you're seeing is an ad. It gets your customers involved by offering an experience beyond the traditional exchange of goods and services. When using this type of marketing, the advertisement often becomes the content itself. Take, for example, the Nationwide Commercial featuring Denver Broncos Quarterback Peyton Manning. The commercial portrays Manning singing about his day-to-day life to the tune of the Nationwide Jingle. The most memorable line being "Chicken parm you taste so good".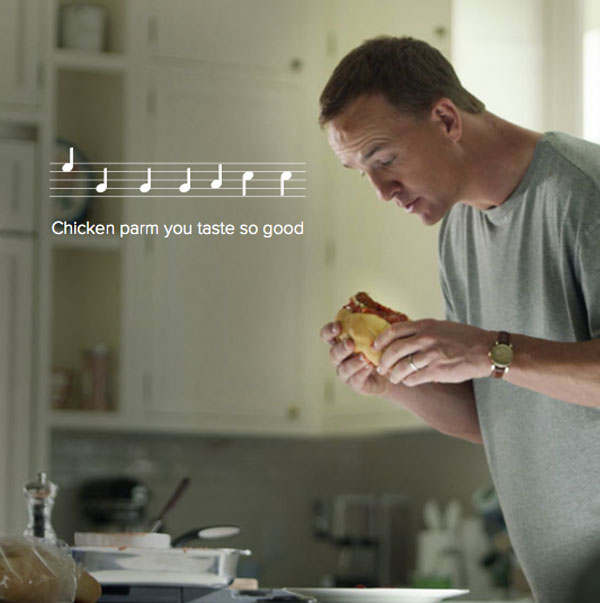 Due to its popularity, this spot even lent itself to parody in a subsequent ad; a commercial sequel of sorts.
Is Nationwide promoting any of its benefits with this commercial? Is it clear how their insurance is better than the competition? Not at all, but this was not the purpose of the ad. The purpose was brand awareness and recognition. Nearly everyone can recall their jingle after hearing Peyton sing it. Some have probably even come up with their own versions. You may even be humming it to yourself right now.
In a press release, Nationwide's Chief Marketing Officer Terrance Williams said "The original 'Jingle' ad was one of the highest performing television ads in the history of our brand". Nationwide's concept was to bathe Peyton in a relatable light; to strip through the layers of stardom and instead, show him in everyday situations. This led customers to see him as relatable and ultimately associate this feeling to Nationwide. Customers want to buy from relatable companies. It fosters brand confidence.
Although the specific benefits of choosing Nationwide Insurance may be lost in the message, that information isn't the focus of this commercial. The focus is brand awareness. By gaining this type of brand awareness from just one campaign, customers who need insurance are much more likely to go to Nationwide first. All they need to do at that point is offer at least comparable, if not superior services at competitive prices.
By incorporating an advertisement with a memorable and easily emulated jingle, a superstar quarterback, and a bit of comedy, Nationwide was able to make their brand a household name. They found a way to creatively gain brand recognition with a jingle that was catchy enough to be repeated by everyone around the TV on Super Bowl Sunday. In terms of brand recognition, it would behoove your company to take a page from Nationwide's marketing playbook.
What are some of your company's non-traditional marketing efforts? How have you gone beyond your product to engage customers in interesting ways? Maybe you incorporated distinctive product giveaways with your company's logo. Let us know in the comments below and click through to start customizing your unique promos.